At Montsià rice we are committed to making local rice to continue taking care of the Ebro Delta.
The
Ebro Delta lands
are a treasure that we want to preserve for many, many years. We believe in the following philosophy: if we want to achieve excellent rice, it must grow in a perfect environment.
We are committed to a unique cooperative model that combines
tradition, innovation, and sustainability
to offer the best local rice with a
Protected Designation of Origin Ebro Delta
.
The purchase and consumption of
local products are becoming more common
. Years ago, this type of product was only consumed near small towns where its main sector was agriculture or livestock.
This situation has changed. In most cities, these
products have been settling
in and are already accessible to a large part of consumers, thus becoming a business model.
But first, do you know what a proximity product is? Why is it important to consume it? What are its benefits? At Montsià rice we explain everything in detail so that you can discover its advantages.
What is a proximity product?
Proximity products
are based on the short distance between their place of production and the point of sale
or final consumption. Thus, reducing the number of intermediaries and costs that may exist between producers and the final consumer. When buying local products, we also consume fresh and
seasonal products, preserving their properties.
The increase in consumption of these foods is related to the
slow food movement
. The trend that defends the idea of ​​
buying and consuming products considering sustainable development
, the defence of biodiversity and fair trade.
Due to their proximity, they are also sometimes
called km 0 food
. These foods are those fresh products that are produced in a nearby environment, where there is not a great distance between production and consumption. Some of them can be organic, such as fruits or vegetables, and their distance is
limited to a radius of less than 100 kilometres
.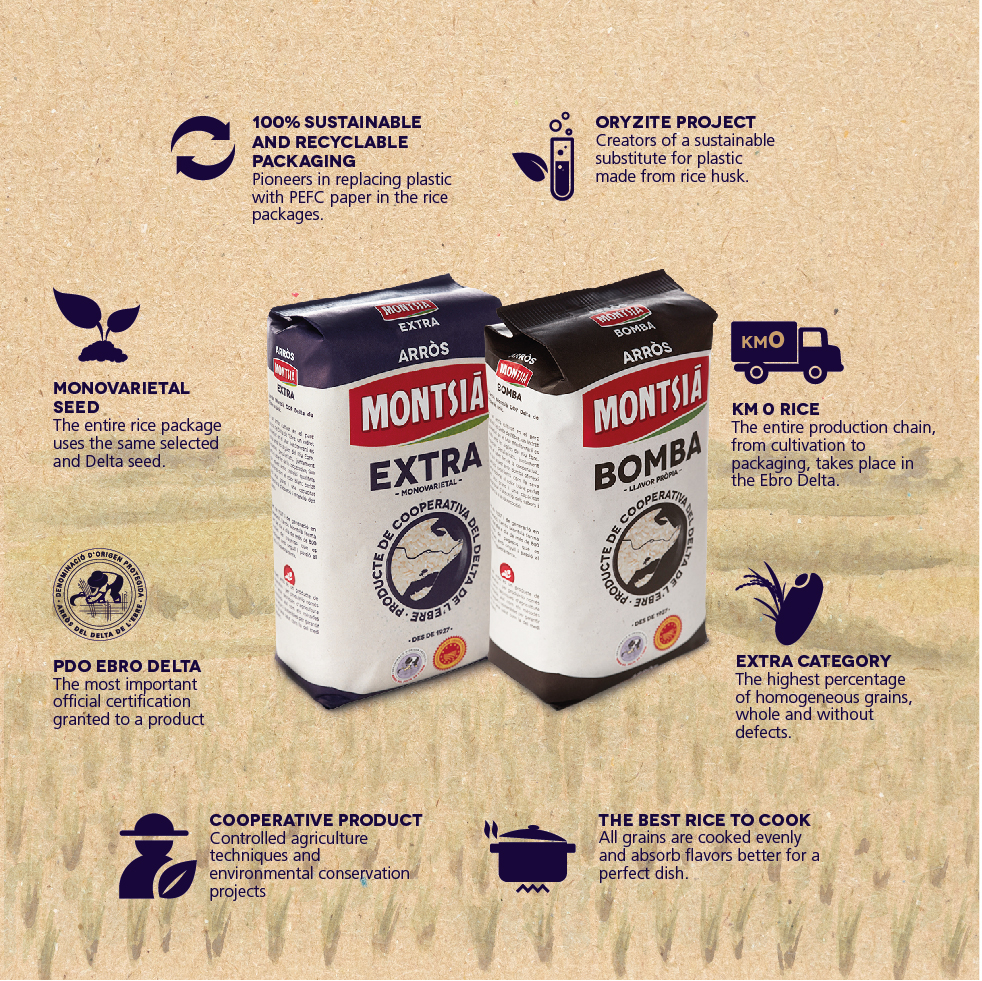 Why is Montsià rice a local rice?
As we said, local products must be produced and consumed within a radius of less than 100 km. To give authenticity and quality to our rice,
our production chain is made in the Ebro Delta
with techniques of
controlled agriculture and conservation projects of the environment.
In Montsià, we have been dedicated to the cultivation and production of rice of the best quality, which together with the preservation of the natural wealth of Ebro Delta and its Natural Park, give us the guarantee of a rice protected by the
Protected Designation of Origin Ebro Delta
rice, with the quality label or badge by the Regulatory Council.
The entire production chain of our rice is exclusively made in the Ebro Delta natural, a privileged place where the Mediterranean meets the waters of the Ebro river.
Being a
monovarietal rice and extra category
, together with the know-how of our cooperative, make our rice offer excellent qualities such as the pearly white color of its grains and
an exceptional ability to absorb and retain flavors
, preserving its properties, to give rise to perfect dishes.
In addition, from the Càmara Arrossera del Montsià we bet on a circular economy. We use controlled farming techniques and environmental conservation projects like Oryzite. In this way we take advantage of the resources and the reduction of our raw materials, and we create this sustainable substitute the plastic, elaborated from the rice husk.
What are the benefits of local rice?
Including local rice in the shopping basket or km 0 or consuming local products consists of opting to purchase products that provide
multiple benefits
in quality, in your health and on the planet.
Among the main benefits are the following:
More sustainable
The use of this type of rice can
reduce pollution
, protect the environment, and support sustainability. There are very important environmental reasons. These types of products are more sustainable because
they consume fewer natural resources and fuel in transportation.
In this way, we
reduce the ecological footprint
, as well as the carbon dioxide emissions that cause the rise in temperature of the planet, the poles thawing and their negative impact on the ecosystem.
Consuming these rice dishes can help guide you on a more balanced, healthy, and wholesome diet, as they are usually very poorly processed foods.
Healthier
The time between harvest and consumption is reduced exponentially, so that the characteristics and
nutrients of the food are preserved with no change.
In addition, it is a healthier product for the techniques used by farmers and winners, but also because
we have more knowledge and control over its origin
. We obtain a greater nutritional contribution, more benefits of rice and a more intense flavour.
It favours the local economy and agriculture
Finally, we find the economic reason. In principle, having lower transport costs and intermediaries should guarantee better prices for consumers.
If we buy local rice, we are not only supporting local businesses, but
also the economy of the area.
In this way, we improve and
encourage agricultural work in the region
.
In addition, farmers give importance to tradition with
controlled cultivation techniques
that add value. Local rice and the work of producers is increasingly valued, not only in supermarkets also in the restaurant's kitchen.
As you can see, consuming these foods has
multiple benefits for you, but also for producers and the entire planet.
Aware of this situation and that part of our success is the land quality, at Montsià rice we know that it is only possible to grow if we work in a responsible way, protecting nature, source of life and Ebro Delta wealth.
What are you waiting for to change your eating habits including local products? Take care of your food! You know that putting it into practice is easier than you think.