If you want your dish to come out as perfect as an Instagram photo, select the right variety for each recipe and always look for the extra category.
Not all rice is the same
You will have heard this phrase thousands of times and the experts are right. But as much as advertising says, it's not the brand but the quality of the rice that matters.
The best rice brands take care of the
selection of their rice dishes
and work to offer their consumers the
right variety and category
. This category is the extra rice.
To differentiate and always choose the most suitable rice for your dish, we recommend you value both the type of rice you are using and its quality or category.
Different varieties rice classification
Did you know that today there are about 10,000 different varieties of rice?
Impossible to know them all. To make your task easier, we will classify them according to their shape and treatment.
Rice according to its shape
Short grain rices
such as Bomba, are characteristic of the Mediterranean basin. They stand out for their round and spherical grain. With the advantage that once the cooking time is exceeded, it does not break, but rather bulges. This peculiarity allows it to save the starch, so it always comes out loose, without weighing it down.
Medium or semi-long grain rice
, the favourite and
most used in our country
as they are the classics that never fail to make good
paellas, creamy rice and desserts
. They come from the
Oryza Sativa seed
and are distinguished
to absorb flavours and liquids
. Once cooked, they are usually fluffy and very well integrated with the rest of the food on the plate.
Long-grain rice
also belongs to the
Oryza Sativa
seed
but differs from the previous ones by
its elongated shape
. Long rice dishes
usually cook extra rice to succeed
with your recipes which makes them require a larger portion of water when cooking. Their main benefit is that once cooked they are
loose, firm and elastic
, so they are the favourites to make salads, side dishes and many dishes of Asian and American cuisine.
Rice according to its treatment
The rice we usually find in the supermarket is generically
called white rice
, as it is white or pearly because the cereal has undergone a mechanical bleaching process. In this way
we obtain an easy and quick product to cook
that we can integrate into all recipes.
Beware, you do not have to
confuse brown rice
with a variety, as any kind of rice we've talked about can have its wholemeal version. We speak of brown rice when the grain retains the outermost layers or bran and much of its nutrients. The
benefits of brown rice
are many, for example, it is an excellent source of fiber and vitamins, although it is also true that its performance in typical recipes is different because its cooking process is slower.
Another rice with a special treatment is
parboiled rice
. To obtain this rice, the paddy rice is subjected to a hydrothermal treatment. This process allows the rice to retain its natural nutrients, such as vitamins and mineral salts, which white rices lose due to the blanching process. One of the main advantages of this type of rice, surely you know it, it does not pass or stick, it is always loose, resulting in the ideal rice for beginners.
Classification of the different categories of rice
We have talked about the differences of each rice about a single rice grain, but what about differences of each package and the selection and packaging criteria.
Packaged rice is usually sold under different commercial categories, the best known, Extra and First, they are classified based on the percentage of equal whole grains that each container contains.
EXTRA CATEGORY
At least 92.7% of the grains are whole and without defects.
FIRST CATEGORY
87,0% of whole grains
SECOND CATEGORY
About 80,75% of whole grains. This category is not very common to find at points of sale.
And why is the extra rice category the best for cooking?
The
quality of the grain has a direct effect on the result of the dish, when the grains are the same, have the same cooking time and absorb the flavours in the same way
. Also, as an extra rice does not have broken grains you guarantee a better result of your dish. On our page "
The importance of being an extra rice with PDO Ebro Delta
" we explain it in more detail.
These are the Extra Rice from Montsià Rice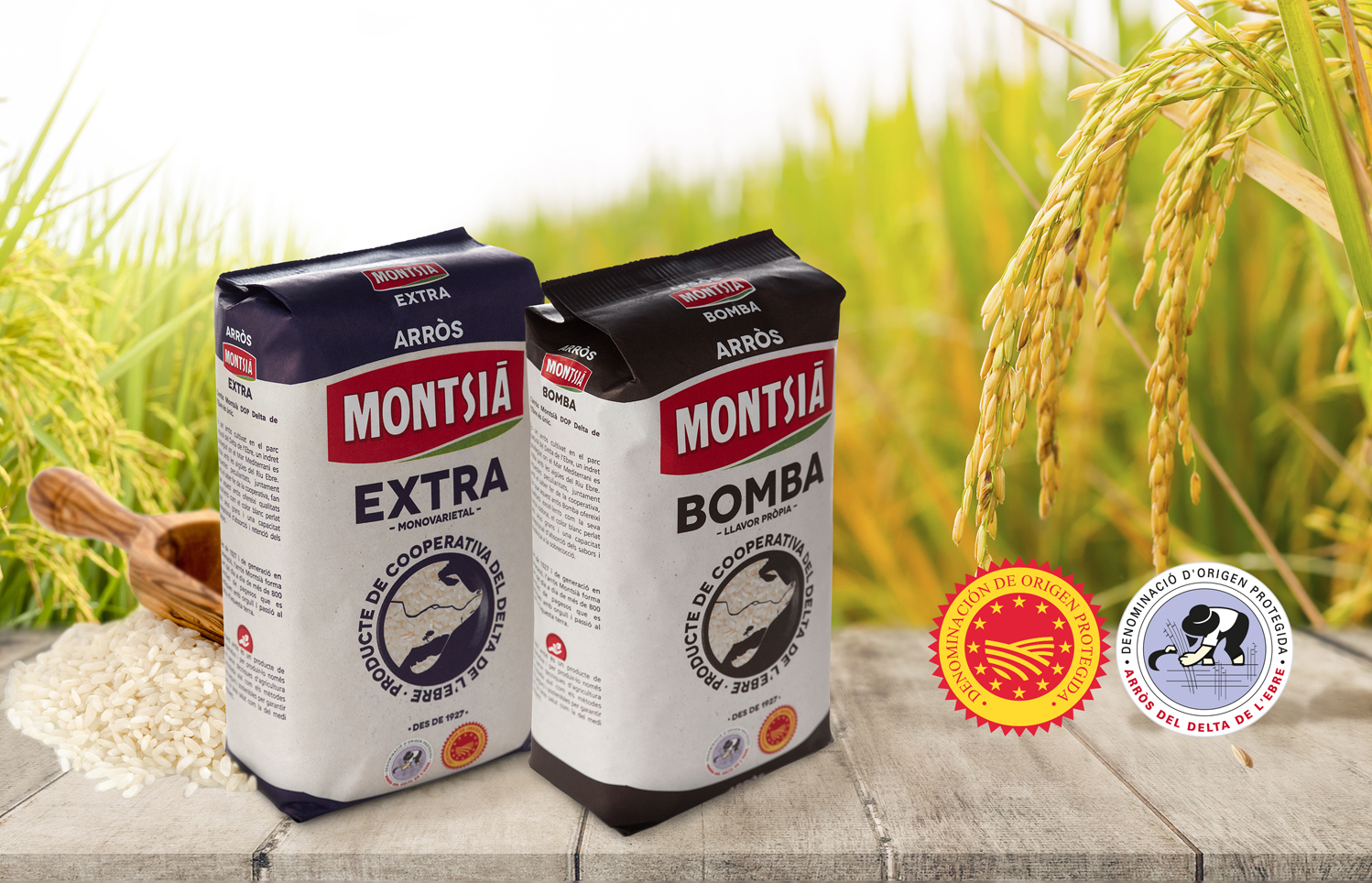 At Càmara Arrossera of Montsià we work continuously to offer superior quality rice and that
contribute a differential of tastes and performance in your dishes.
Therefore, we can proudly say that we have
excellent varieties of extra category and single-variety rice
. Each variety made with the same seed native to the area, and therefore have the special distinction of quality that contributes the
designation of origin PDO Ebro Delta.
Montsià Extra rice
The Montsià Extra rice is a medium-grain white rice. For its elaboration,
we always use the same selected seed, Montsianell,
cultivated in the Delta and that has the PDO Ebro Delta certification, characterizes by his beautiful pearly colour and an exceptional capacity of absorption of flavours.
It is ideal for paellas, salads, meat, and fish accompaniment and desserts based on rice. Click on the link if you want to know more about our
extra rice
and try original and amazing recipes with this excellent single-variety rice.
Montsià Bomba rice
Montsià bomba rice is a high quality, short grain white rice. From seed of the cooperative and tradition in the Mediterranean,
which also has the Delta del Ebro PDO certification
. It is distinguished by its resistance to cooking and its ability to absorb liquids, two ideal conditions to better retain the flavours of the broth.
The bomba rice has a great prestige among consumers, in addition to being one of the favourites chefs rice to prepare haute cuisine dishes, it is the undisputed protagonist of broths, paellas, Poke bowls, etc. Click on the link to find out more and discover new recipes with
our rice bomba.
Montsià Long Rice
Montsià long rice is a white rice with an elongated and light grain. To make it,
we use Olesa, a long-grain native seed
that we make with great care and dedication.
Long rice has a high amylase content that gives it sponginess to be looser once cooked, it is the typical rice that is never passed so it is excellent for light salads or as an accompaniment. Click on the following link to know more about
our long rice
and try new recipes with this variety of rice.