If there is an emblematic dish in our gastronomy it is of course the paella.
Paella is one of the most recognized recipes for its combination of ingredients
The culture of rice is basic in our cuisine especially in the Mediterranean area. In each region they prepare rice differently:
creamy, dry or brothy
... Among all rice dishes, the
famous paella
stands out.
It is difficult to define what the paella is, as in the Levante area they use a specific
type of rice
and specific ingredients. Based on what the dictionary says, paella is a "dish of dry rice, with meat, fish, seafood, legumes, etc.".
But
what is the paella's origin?
We travel back in time to the 15th century! In the rural areas of Valencia, farmers made a simple recipe with basic ingredients.
In its beginnings, the paella was made with
rice, rabbit, vegetables, saffron and olive oil
. They mixed everything and let it cook on orange firewood to give it a very peculiar taste and perfume.
What is the best rice to cook paella?
Paella is a dish that has evolved,
but always based on rice
. Although rice has always been the most important ingredient, it is true that there is a discussion about what is the best variety to cook it.
In the Levante area they are very clear:
bomba rice is perfect for cooking
this delicious recipe. Its recognition is based on the fact that it
can absorb a large amount of broth
, thus preserving the flavor of the ingredients, and, even if the cooking time is exceeded,
its grains do not break or pass.
But there are also other regions that prefer to cook paella with
extra rice for homogeneous cooking
, which facilitates the preparation of tasty dishes. These varieties of rice include those with a designation of origin, such as our
Montsià Bomba Rice
and
Montsià Extra Rice
, which has the
PDO of Ebro Delta.
Our rice, grown in the heart of the Ebro Delta, are characterized by
being monovarietal
, have no mixtures and all their grains are uniform for perfect cooking. Now it's up to you to decide. To cook a paella, do you prefer bomba rice or extra rice?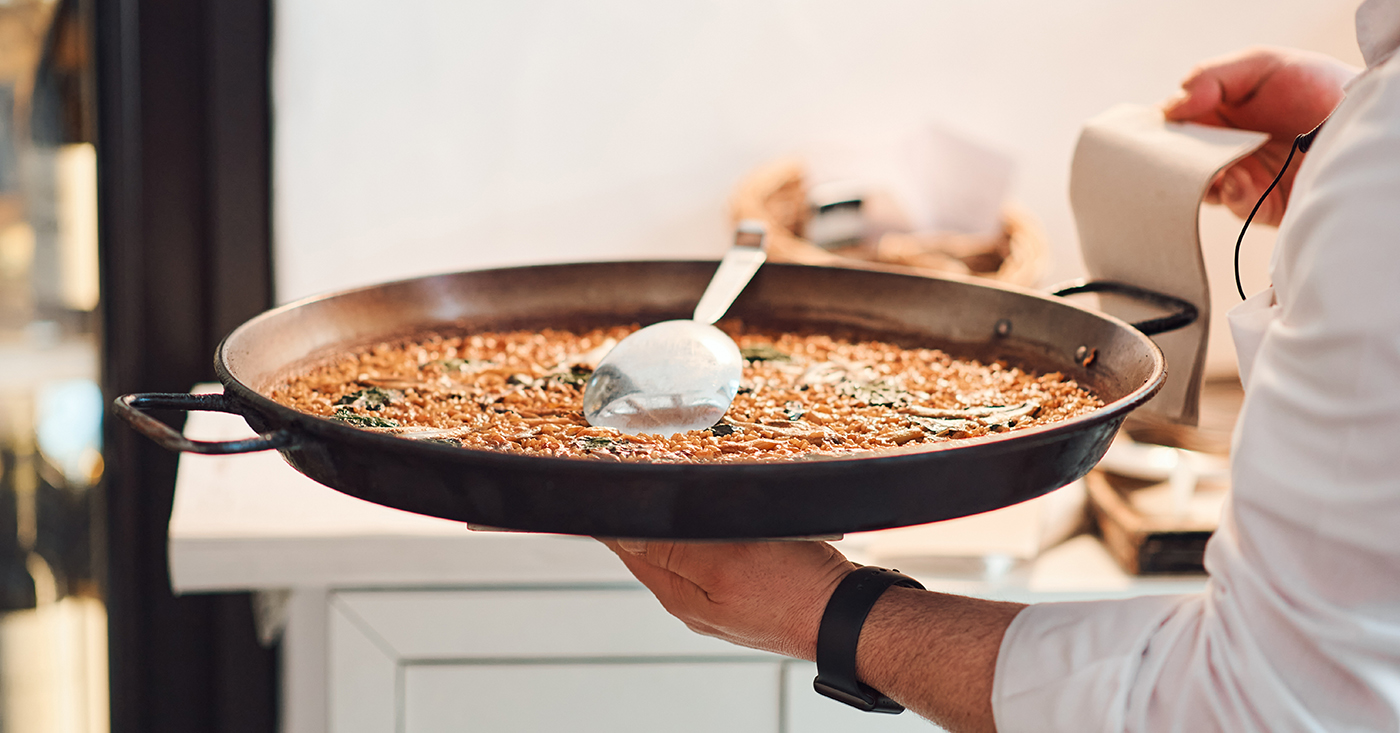 Tricks for cooking paella
Preparing a paella is an easy task, but having a good technique and cooking it perfect it is a bit difficult. From Montsià rice
we show you tricks
to make your paella delicious!
The ideal paella should be cooked in a
frying pan over a wood fire
, recreating the origins with the firewood of the orange trees. In most cases it is impossible. Even if the result is different, we can always prepare the recipe in a ceramic hob or gas.
To prepare the
stir-fry
, you can use
green pepper, garlic and tomato
. As with all recipes, you can add red pepper or not. We do recommend that you try to avoid adding peas and
onions because rice tends to pass
or stay soft. In the Valencian Community they always add
garrofó
, which is a kind of flat bean, and artichokes.
What is the perfect cooking of paella? You can add water or broth and in both cases the trick is to add three times the volume of rice you use in water or broth. At Montsià rice we recommend you
first brown all the ingredients
and then prepare the stir-fry. Add the broth and when it starts to cook,
add the rice over high heat for ten minutes
without stirring anything.
Then lower the heat and
keep cooking for about seven minutes
. Once these minutes have passed, raise the heat again for a minute to prepare the famous
socarrat
. Finally, turn off the heat and let the paella rest for another five minutes.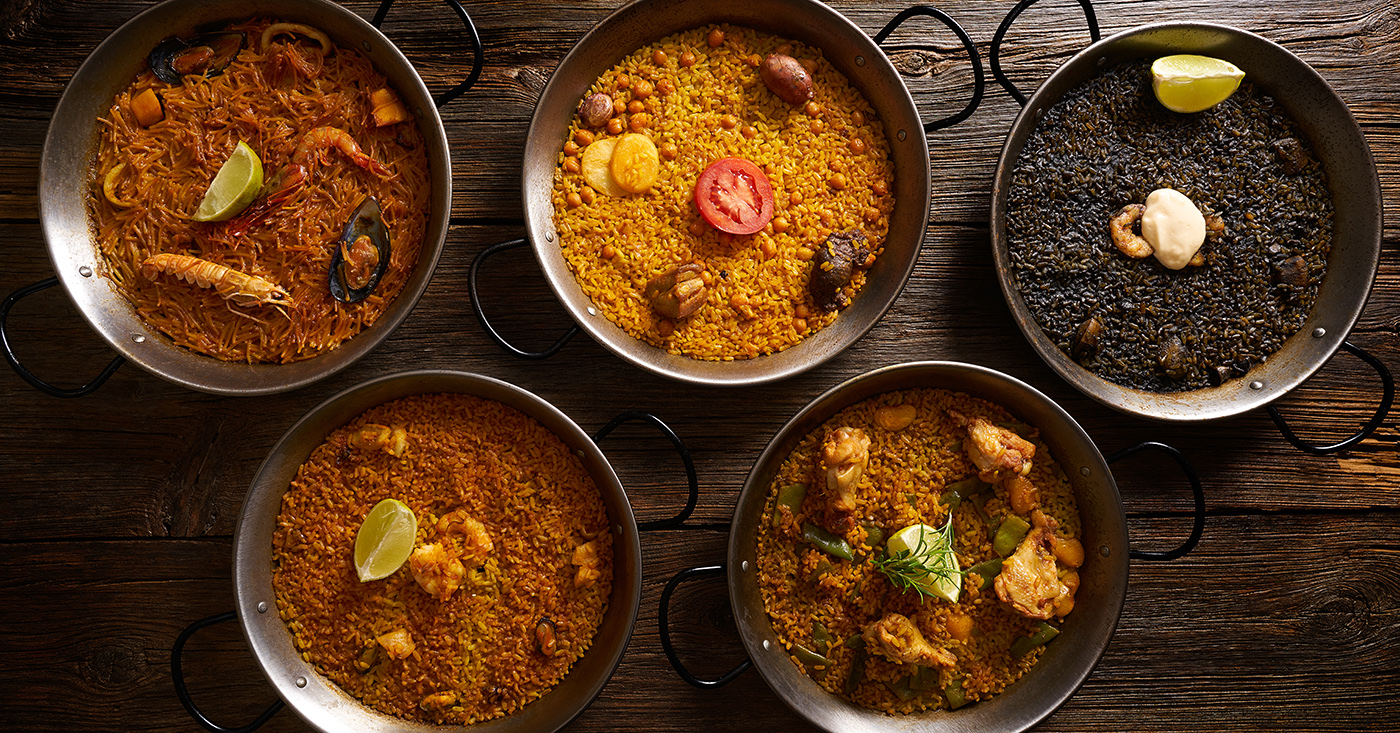 Types of paellas
The original recipe for the
paella is Valencian
, but over the years has also evolved and adapted to new gastronomic trends. The paella should always have a number of basic features to savor it in various possibilities.
Here are
three delicious types of paella
for you to enjoy a good rice.
Vegetable paella
The
vegetable paella
is one of the easiest recipes to prepare. Although you may remember the
Valencian paella
, in this case we will not add rabbit or chicken. With some fresh
artichokes, green beans and garrofó
we can prepare a great recipe.
The vegetables paella has a
great nutritional contribution
. Beans and
garrofó are rich in fiber
, which helps regulate intestinal transit. This recipe is a very complete and balanced meal, suitable for people intolerant to gluten and lactose.
Seafood paella
The
seafood paella
also has its varieties. Although
prawns
are essential, you can also add
mussels, clams or squid
and bathe everything with wine to move to the Mediterranean in the middle of summer.
Seafood paella has nutritional properties and benefits such as
vitamin A
and minerals such as
zinc
or
iron
and is
rich in omega-3 fatty acids
which helps prevent cardiovascular disease.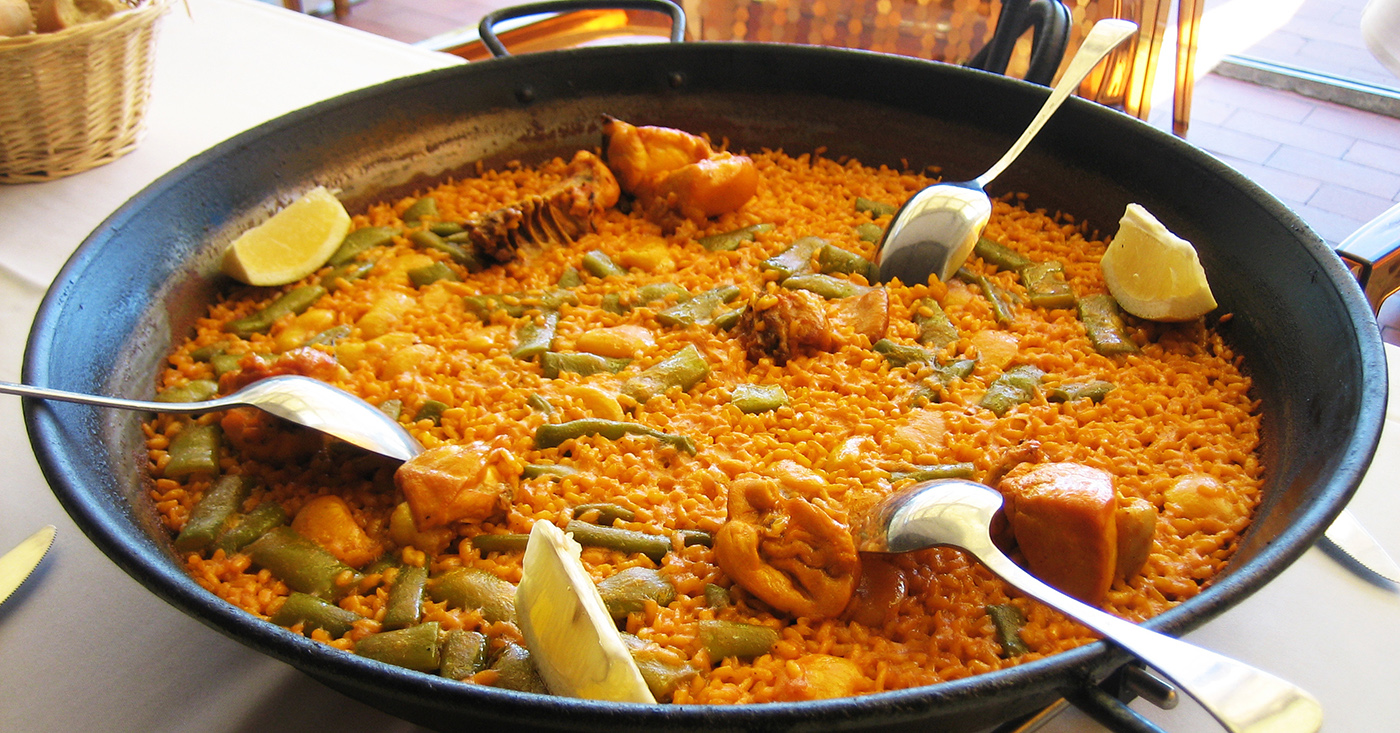 Meat paella
One of the most well-known paella varieties is
meat
. In addition to rice, the star ingredient is c
hicken and pork or rabbit meat
.
Despite being a blunt dish, the nutritional properties are broad because rice is a food that
provides us with energy, carbohydrates and vitamins and minerals
. In addition, if we opt for
white meat
will provide us with
protein
and a
very low level of fat
.
Preparing a rice paella is not that complicated! At Montsià rice we love to give you tips and tricks to
enjoy easy, complete and very balanced rice recipes.
Now it's up to you to prove that you are a real chef in the kitchen and surprise all your diners with a delicious paella!