Bomba rice is one of the favorite rices of great chefs when preparing a wide variety of haute cuisine dishes..
Bomba rice
is perfect for both experts in the kitchen and the most novice cooks, because
its results are always excellent, and it does not go overcooked.
This type of rice is a short grain variety that
tends to enlarge during cooking
. Its production is mainly concentrated in the entire Mediterranean area, such as in the Ebro Delta. For this reason, in Montsià rice we can boast of having one of the best bomba rices with a
designation of origin from the Ebro Delta
.
Bomba rice
Bomba rice: Characteristics and properties
If you want to taste the
tender and smooth flavor
and all the ingredients of the dish, do not hesitate, bomba rice is your perfect option.
It is a type of grain that
absorbs both heat and liquid very well
. That is why it expands and is much looser, preserves the flavor of the broth and does not break or overcook once the cooking time is over.
And Montsià Bomba Rice, what is special about it?
To make Bomba rice, at Montsià rice we always use the same select,
high-quality variety from the Ebro Delta
. Our Our rice is characterized by its round shape and its pearly white color,
very resistant to cooking
and capacity. It is a grain that absorbs liquid very well, retains the flavor of soups rice and does not break.
In addition to being a rice with a designation of origin, our variety is of the
Extra category
. This implies that all
our grains are homogeneous and monovarietal
and they require the same cooking time so when they enter your kitchen, your recipes are delicious and much tastier.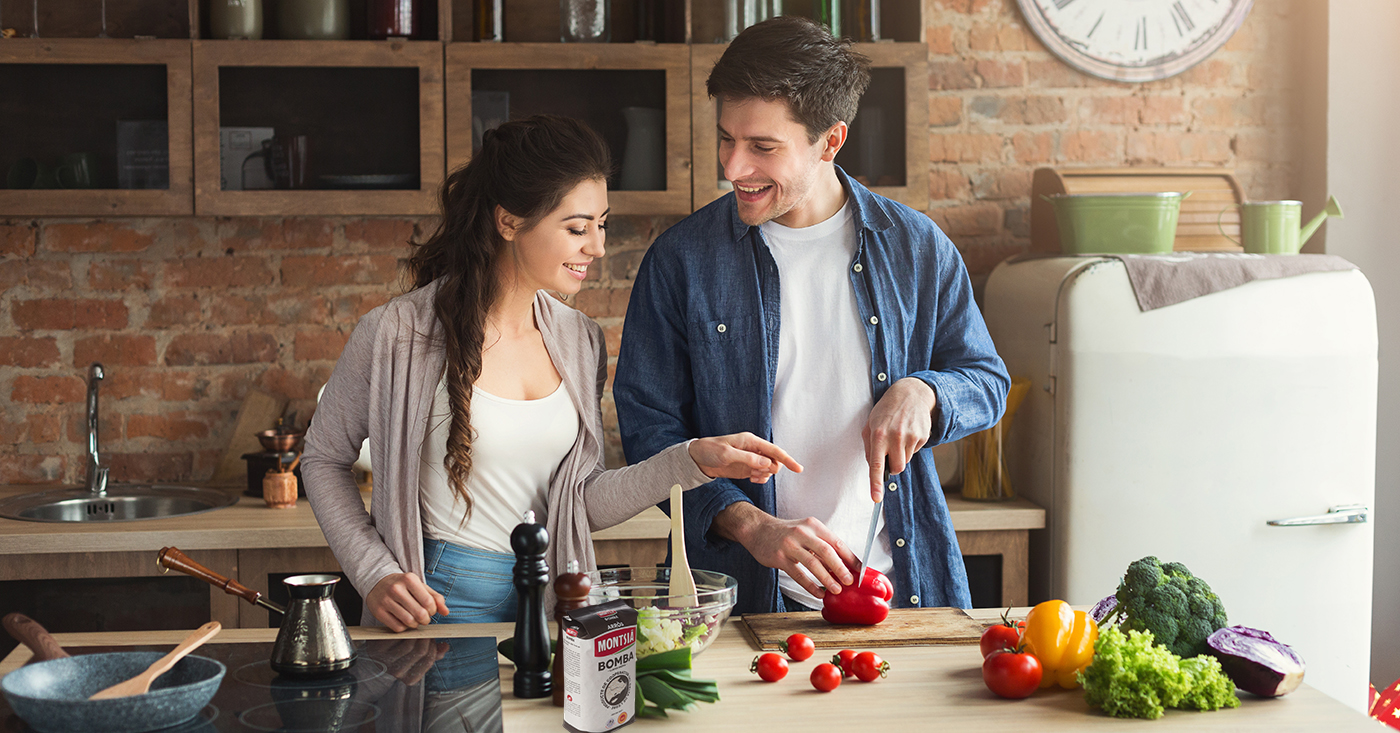 Bomba rice cooking tricks
Before you start cooking this short rice, you should know what varieties exist and what is the best option to prepare your recipe because
each rice must be cooked differently
. Bomba rice is not prepared in the same way as extra or carnaroli rice, if so, the results of your paella or soupy rice will not be what you expected.
To prepare a Bomba rice, it is very important to take into account two factors:
water and cooking time
. Whether you are an expert in the kitchen or a hobbyist, these tips will help you with your final result.
If there is not enough water, surely the rice will overcook. To avoid that, use 1 cup of rice for 3 of broth.
And what is the cooking time for bomba rice? Thanks to the homogeneity of our grains, we recommend that the
cooking time be 18 minutes
but then leave it for 3 more minutes to rest.
Recipes with bomba rice
Although bomba is mainly used for
soupy rice, creamy rice and paellas
, you can also use it in other more original and innovative dishes such as poke bowls, desserts, risottos and croquettes.
Still have no ideas? Do not worry! To help you, at Montsià rice, we periodically publish
new recipes
with seasonal, simple and original products for you to share and enjoy a delicious bomba rice with your family.
Next, we bring you
four delicious recipes
with this rice variety to spice up your kitchen.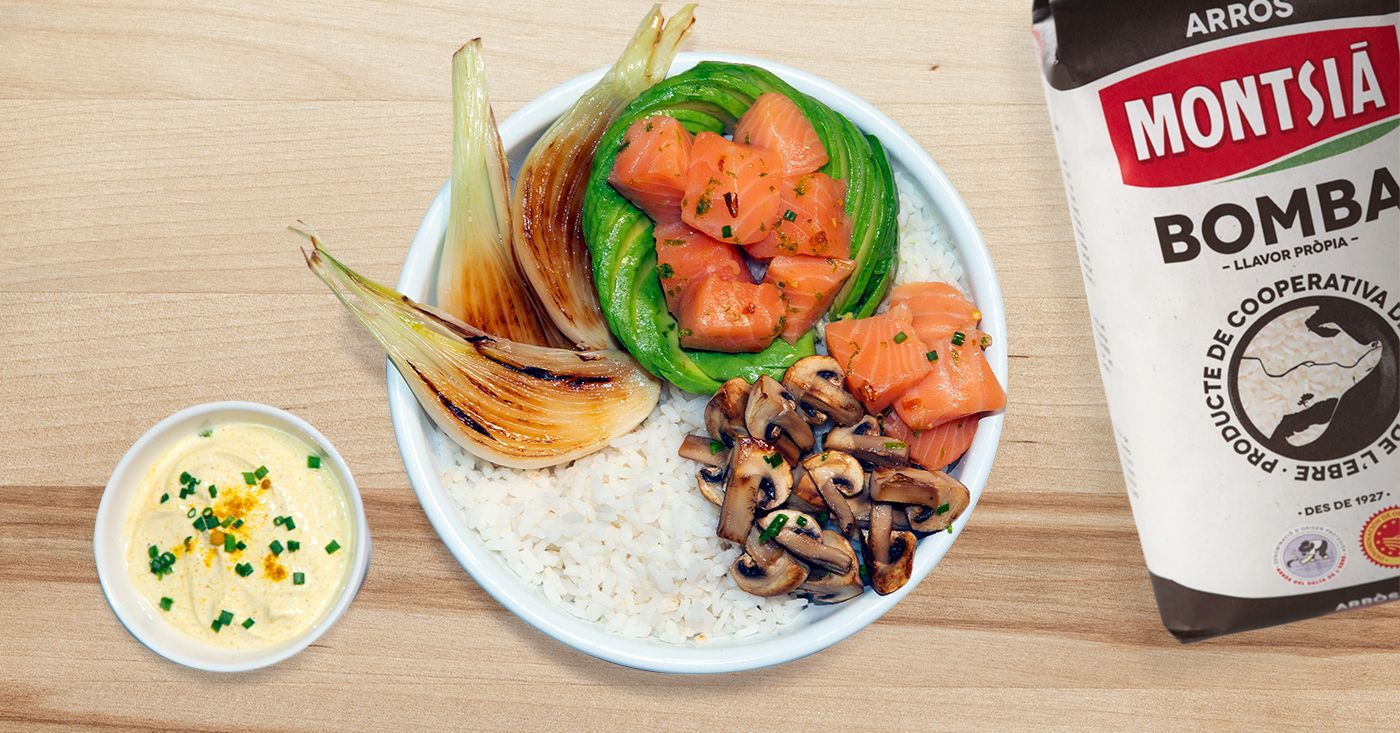 Spicy Marinated Salmon & Curried Yogurt Sauce Delta Poke Bowl
At Montsià rice we have wanted to give a twist to the famous Hawaiian
Poke Bowl dish with products from our land
, thus creating the
Delta Poke Bowls
. This easy-to-prepare
recipe
revolves around a
Montsià Bomba rice base
, which includes a curried yogurt sauce with spicy salted salmon, chives, avocado and fried mushrooms.
This Delta Poké is a
very complete and balanced dish
because it is high in protein and Omega 3 that helps the normal functioning of the immune system.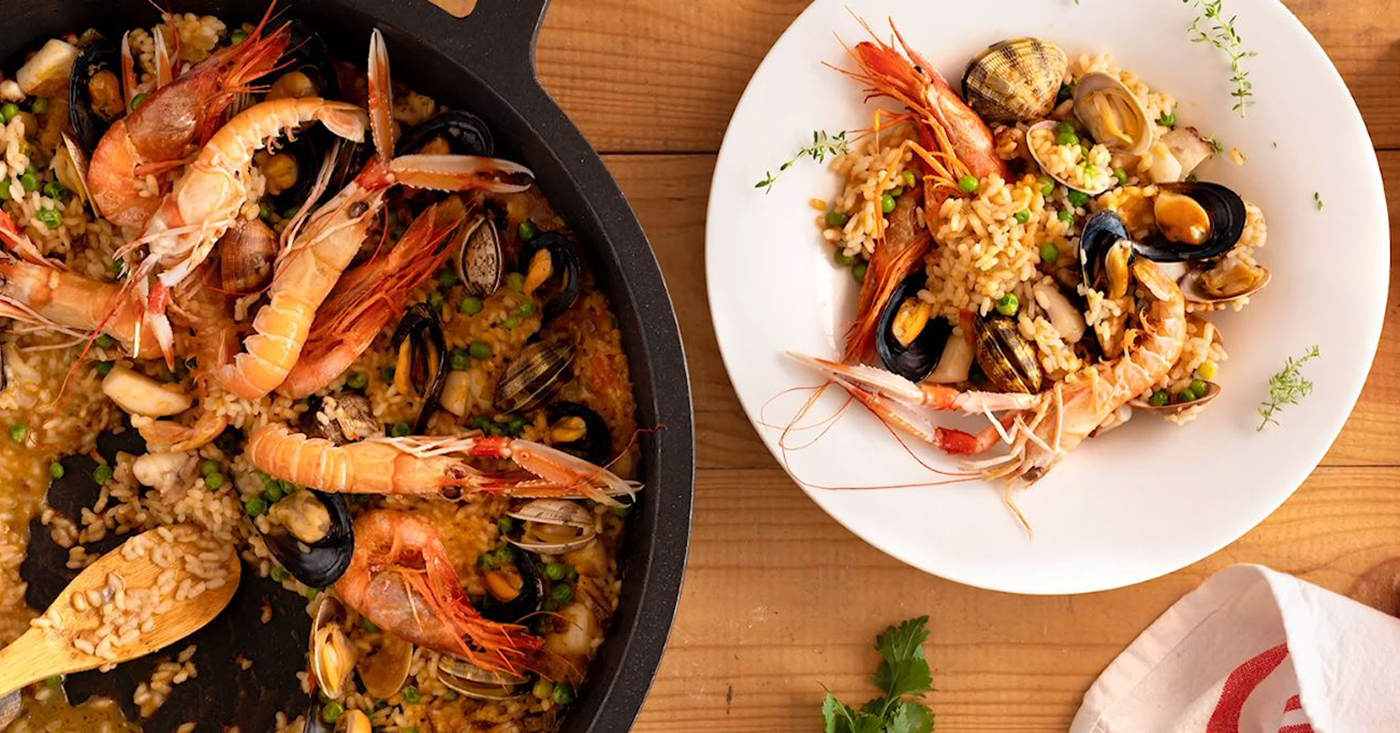 Seafood paella
Who says no to a good paella? One of the
star dishes of our gastronomy is paella
. And, although there are areas such as Levante that prefer to cook it with bomba rice, other regions prefer extra rice. As you already know, paella has many varieties, today we show you how to cook seafood paella. You will see that it is a very easy recipe to prepare!
Seafood paella has
an intense, complete and balanced flavor
. In addition, it is a perfect option for summer meals with family or friends.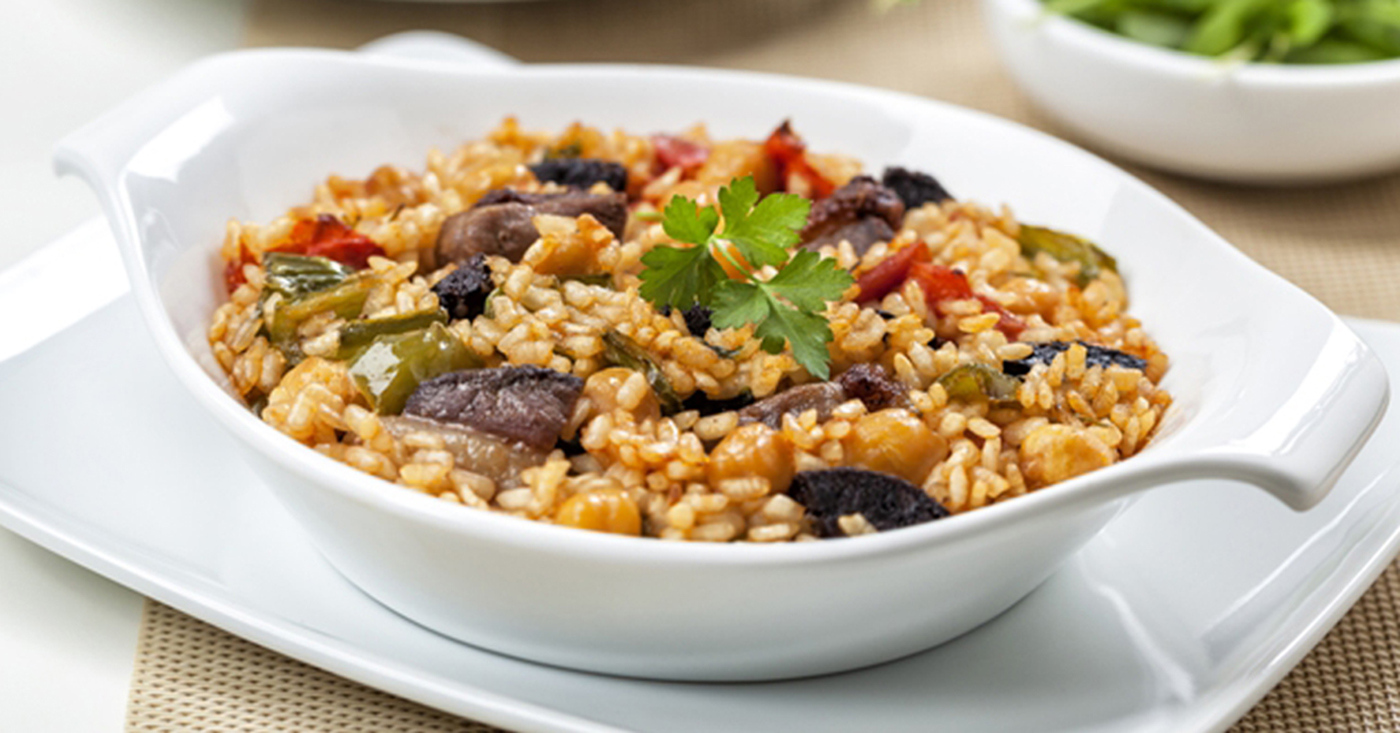 Duck gourmet rice
Duck rice
can be prepared in many ways:
creamy, soupy or dry rice
. We will use bomba rice but we will prepare it as dry rice. You can also choose between magret or thigh, although the recipe is very similar, the flavor will be some different. If you select the
magret the result will be drier
and the thigh juicier.
Duck rice is a
healthy and delicious gastronomic idea
that brings two-star ingredients of our land: the Ebro Delta.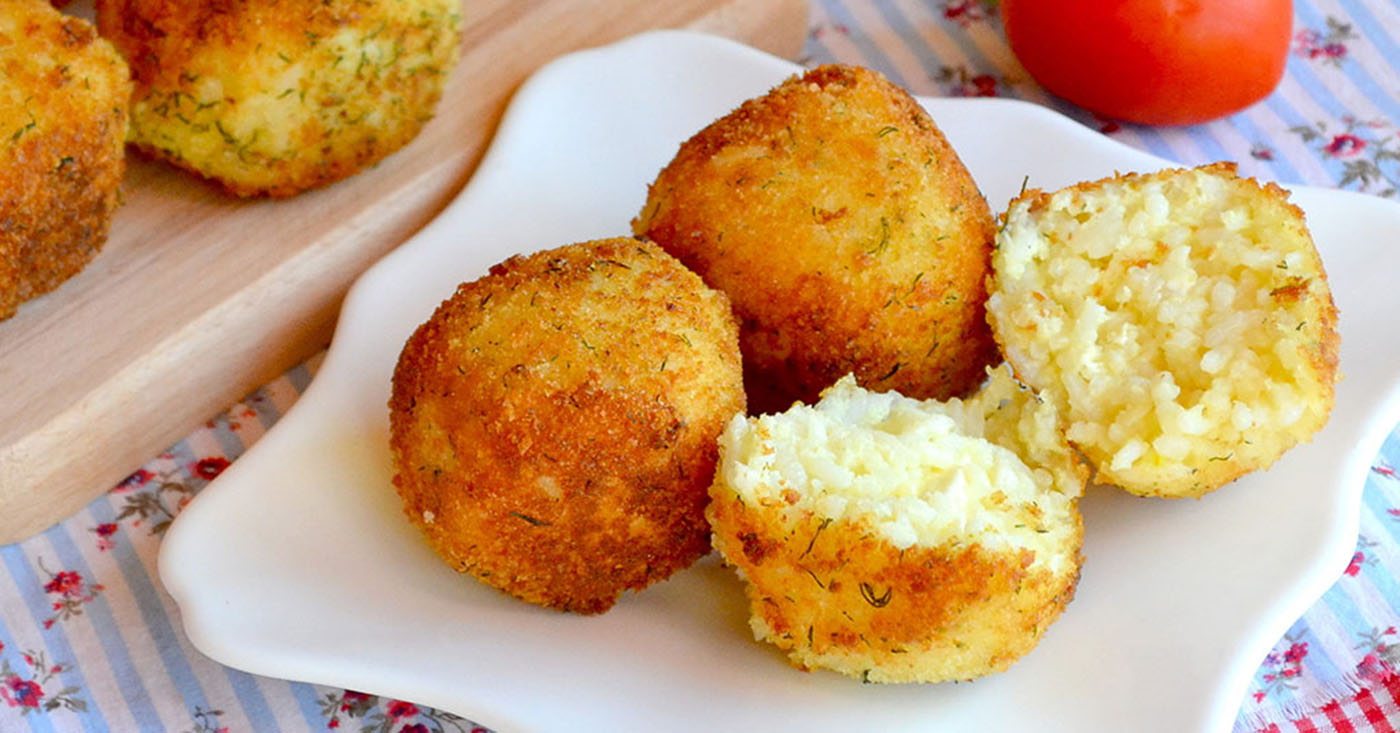 Rice and cheese croquettes
Chicken, ham, mushrooms, seafood ... Did you know that you can also prepare delicious
croquettes with rice
? These
rice and cheese croquettes
are characterized by being
very creamy on the inside and crunchy on the outside
. The idea is to form a kind of rice and cheese ball filled with the ingredients that you like the most, such as ham, spinach or fish. Customize them!
Rice croquettes is a very easy recipe to prepare and is perfect whether you have rice left over at home and want to take advantage of it as starting this dish from scratch.
Easy right? You already know that at Montsià rice we love to see how you enjoy cooking, that is why every month we offer you
balanced recipes
that are very simple to prepare.
Now it's your turn to enjoy the tender and smooth flavor and taste all the ingredients on your plate with the
Montsià Bomba Rice.